Welcome! We are Maine lawyers devoted to fighting for the rights of Maine people. While much of our work focuses on personal injury law, employment law, will contests, discrimination or harassment, special education law, student discipline, or civil rights, we also handle criminal defense, and business disputes. Our job is to find creative solutions. ONE CLIENT AT A TIME.
Solving Problems. One Client at a Time.
Learn More
A Law Office That Works For You
The most important part of our job is to make sure we fully understand your problem. We'd like to help. If you have a claim or have questions about your rights, do not hesitate to call us at 207-985-3200 or send an email to info@cliffordclifford.com. We provide a free initial consultation. We look forward to helping you.
SEND AN EMAIL OR CALL US AT 207-985-3200 TO SCHEDULE YOUR FREE CONSULTATION.
About Us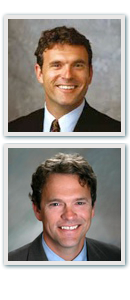 James Clifford focuses his practice on employment law, commercial litigation, disability rights, and special education law and advocacy. Since 1991, the primary focus of Peter's practice has been personal injury, and the related fields of products liability, medical malpractice, estate litigation …