Solving Problems One Client at a Time
---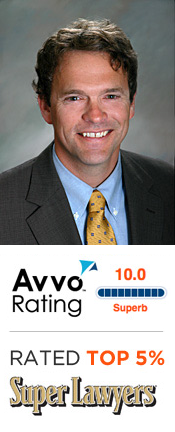 Peter Clifford is an experienced and highly rated Maine attorney who specializes in personal injury. Feel free to call him now at (207) 613-9465 or email him for a free initial telephone consultation.
The primary focus of Pete's practice, for the past 20 years, has been personal injury, and the related fields of products liability, medical malpractice, workplace injuries, and premises liability. He has served as President of the Maine Trial Lawyers Association, and was voted by his peers as one of the leading personal injury litigators in many publications, including Martindale Hubbell, New England Super Lawyers Magazine, and Best Lawyers in America. He was also appointed by the Maine Supreme Court to serve on the Civil Rules Advisory Committee in 2007. He continues to serve on that Board, which governs the rules governing how litigation is conducted.
Personal Injury Claims:
A significant part of our practice is devoted to representing individuals who have been injured as a result of another party's negligence. If you have been injured, please call or email to set up a free consultation. If we agree that your case has merit, you will pay nothing unless and until we recover money for you. We will fight for your rights and get you the compensation you deserve. We routinely handle the following types of claims:

Motor Vehicle Accidents (car accidents, motorcycle accidents, truck accidents)
Premises liability (slip and fall)
Construction site accidents
Products liability (defective products)
Wrongful Death
Helping Mainers Since 1991
Considering how much our society relies on cars, it is almost inevitable that at some point in your driving experience, you are going to become involved in one of the many car accidents in Maine. Regardless of whether or not you are found to be at fault, there are certain things that you must do to ensure that the negative ramifications of it are limited as much as possible.
What is the likelihood of becoming a car accident statistic? In 2009. there were 159 fatalities in Maine as a result of car accidents. While that might not seem like a tremendous amount compared to the total number of miles that are driven each year on the roads of Maine, it still reflects 159 people who never thought it would happen to them.
Types of Car Accidents
Head-On. While head-on collisions only account for approximately 2 percent of all car accidents, they have the highest rate of fatalities. Drivers cross over into oncoming traffic due to a number of reasons: weather, road conditions and losing control due to driving too fast or driver error, such as from texting and cell phone use.
Rear-Impact. Making up almost one-third of all car accidents, rear-impact accidents can range from simple fender benders to totaling all of the cars involved. The most common reason for a rear impact collision is due to the rear vehicle following too closely and not paying attention.
Side-Impact. With an accident percentage almost as high as rear-end collisions, side-impact collisions mainly occur at intersections. Failing to yield to light changes or attempting to beat a light are the main culprits.
Runoffs. Since these are caused by a driver losing control and leaving the road, they usually, but not always, involve only one vehicle.
When An Accident Occurs
Knowing what to do if you're in a car accident could mean the difference in whether you are covered due to someone else's actions or if you end up getting stuck footing the bill. With car repairs, medical bills, legal fees, insurance deductibles and lost time from work at stake, acquiring the evidence that you need and getting the facts straight is vital. Here are 5 important tips to ensure that you are protected:
Notify the police. Even if it is a minor incident, you never know where the accident is going to lead you. Let the police decide how far the investigation needs to be taken. The dispatcher will ask you if there are any injuries requiring an ambulance.
While you're waiting, start making notes while it's still fresh in your mind. Scribble down important facts such as any witnesses, description of cars involved and witnesses (in the event that they leave the scene), etc. This is also a good time to utilize your cell phone's camera to discreetly photograph the scene and possibly even the other driver's face.
Keep quiet. In the aftermath of an accident, adrenaline is pumping and nerves are on edge. This is when people become the most chatty. It's fine to ask if everyone is alright, but other than that, don't make any comments concerning the accident. If asked by another driver, simply state that you are waiting for the police to arrive. Even then, only answer what you have to. Don't admit anything. Let the insurance companies hash it out.
Call your insurance company. They have a mountain of paperwork that has to be initiated on their end so they need to get the process started as soon as possible. You will also need to provide them with the information concerning any other drivers who are involved.
Contact an attorney. In this day and time, you never know how involved an accident may become. There is also a good chance that the other driver might not have insurance coverage. Don't assume that determining the fault and collecting for damages is going to be cut-and-dry. You might want to speak to an experience car accident lawyer to see what your rights are, and to make sure that they are adequately protected.
What An Attorney Can Do For You
Knowing how a lawyer can help if you're in a car accident could make all the difference in the outcome of the settlement. They can not only inform you on what your rights are, but they also understand how to protect you from being taken advantage of. Insurance adjusters receive specialized training on how to minimize settlements and limit losses for their company. While this is good for them, it's bad for you.
There are so many issues that will decide the outcome of the case, and the settlement:
who is at fault
if anyone was injured
making sure the police report sufficiently covered all of the details
if the liability limits in your policy are limited
questions that you may have concerning your policy, and it's coverage
if outside forces were a contributing factor (i.e., weather, road condition, construction, etc)
when issues, such as medical or mechanical, become too technical
the other driver is represented by their own attorney
the other insurance carrier is represented by their own attorney
you start to feel uncomfortable with what your insurance carrier is telling you
In the end, it pays to be represented by an experienced attorney. They specialize in protecting you and getting you the settlement that you deserve so that you can focus on piecing your life back together with as little disruption as possible. Contact the Personal Injury lawyers at Clifford & Clifford to discuss your case.